More Than a Feeling
by
Dave Weller
Ever since Brad Delp, lead singer of the band Boston, died in 2007, the band has struggled with how to continue preforming. Boston has been Tommy DeCarlo's favorite band since he was 13. He had always dreamed of being a rock star. But to pay the bills, he was working as a credit manager at Home Depot in Charlotte, North Carolina.
DeCarlo's daughter posted a My Space page of him singing karaoke to Boston songs. Boston founder Tom Scholz's wife found the post and played it for Tom. He couldn't believe what he heard. The band hired DeCarlo as their new lead singer!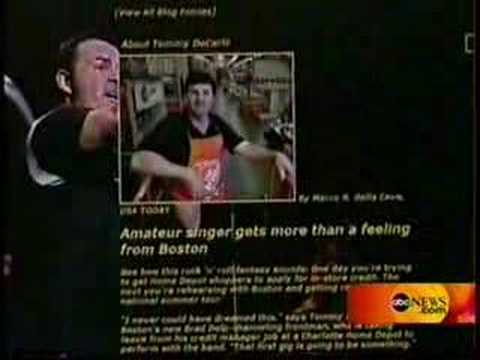 He made his debut onstage at a tribute concert to Brad Delp last August. It was the first time in his life he had sung with a band.
DeCarlo and the rest of Boston will begin their summer tour on June 6, 2008, in Thunber Bay, Ontario, Canada.