Futurliner and the "Parade of Progress"
by
Dave Weller
A few days ago, I came across a posting on Autoblog about a 1939 GM Futurliner that is up for sale on eBay. I remember seeing one of these once but, for the life of me, I can't remember where it was!
So, what is a Futurliner?
Futurliners are a group of 12 stylized buses designed by Harley Earl. They were used in General Motors' "Parade of Progress" tours which traveled to cities and towns across North America in the 1940's and 50's, showcasing new cars and technologies.
The Futurliners were identical with a bright red, white and silver color scheme. They measure 11′ 7″ tall by 8 ft. wide by 33 ft. long and weigh 27,000 pounds. Each displayed modern advances in science and technology such as jet engines, stereophonic sound, microwave ovens, television and many other modern marvels of the time.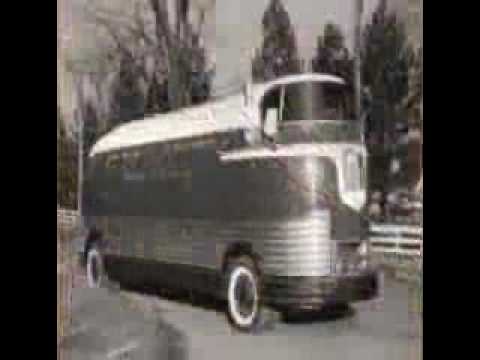 After the "Parade of Progress" tours ended in 1956, GM held on to the Futurliners for a few years and then sold them to free up storage space. They ended up in various roles; working for a brewery, a tool company, a touring vaudeville company and to the Michigan State Police educating the public on traffic safety. Some were left in a farmer's field in Illinois. Others found a future in Southern California junkyards. At least one found its way into the hands of the popular Oral Roberts crusade of the sixties. It was dubbed the "Cathedral Cruiser".
Of the twelve original Futurliners, nine have been located. The bus listed on eBay was converted into a customized motor home. You can join in on the bidding that started at $ 1,000,000!
This image below is of Futurliner #10.
It was restored by a group of some 30 volunteers, led by Don Mayton at his Zeeland, MI home. With support from GM divisions, and about two dozen other businesses that donated parts and services, the restoration project took seven years to complete. #10 is the most accurately restored Futurliner. It's owned by the National Automotive & Truck Museum in Auburn, IN. There are many more images of it available here and here.