Buried Belvedere
by
Dave Weller
As Oklahoma celebrated its 50th anniversary of statehood in 1957, the city of Tulsa commemorated the occasion by sealing a gold and white 1957 Plymouth Belvedere Sport Coupe in a watertight concrete vault under the lawn of the Tulsa County Courthouse. The car would be unearthed 5o years later, in 2007.
Among the items included with the car were 10 gallons of gas, motor oil, a case of beer. A metal time capsule contained an American flag, savings account passbook, a bumper sticker, and other documents. Also, the Belvedere's glove compartment was stocked with the contents of a typical woman's handbag including, a bottle of tranquilizers, 14 bobby pins, a compact, a package of cigarettes, matches, two combs, and unpaid parking ticket, a tube of lipstick, a package of gum, a plastic rain hat, facial tissues and $2.73.
Townspeople were asked to submit guesses as to what the population of Tulsa would be in 2007. The winner would receive the mint condition 1957 Plymouth Belvedere!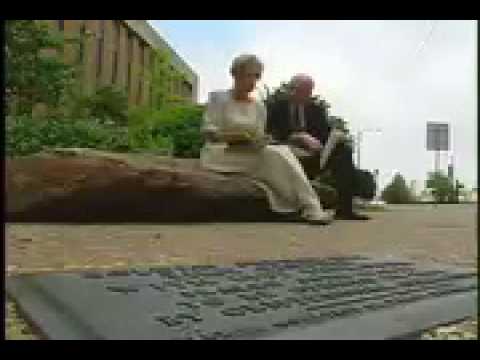 Well, the day of the unearthing arrived on June 15th, 2007. The crowd anxiously gathered in anticipation. As workers removed the huge concrete cover of the vault (it was built to withstand a nuclear attack), they found about 2 feet of standing water and indications that, at times, it may have been filled to the rim. The Belvedere remained encased in its supposedly water-tight material. But the material was no longer sealed well, and what showed of the car was a hint of what was to come. It was lifted out of the vault with a crane, loaded on a trailer and driven to the Tulsa Convention Center to be unveiled that evening.
Instead of a pristine car, what the townspeople saw was a lot of rust. After 50 years of sitting in various levels of water, some of the tires were flat, the upholstery disintegrated and the engine a very large doorstop. Unfortunately, many of the artifacts were unrecoverable except for two glass jugs of gasoline, a cigarette lighter and some thickly encrusted cans of Schlitz beer.
But, the story didn't end there. The winner of the guessing contest, Raymond Humbertson, passed away in 1979, and his wife in 1988. The couple had no children. After some debate, the car was awarded to his sister. And what about the Belvedere? It's headed for New Jersey, to a rust remover company. The company says it can remove the corrosion while leaving the metal unharmed. It also leaves rubber, plastic, seals, and most paints untouched. So, stay tuned for further updates!
Flickr user milesj has a large gallery that chronicles the unearthing of the Belvedere.